Many people allready found their way to this website! The respons I am getting is great!
My main collection now

:



My collection of Number 14 Pool Balls

! 

389 

in my collection now and 

13 

due soon. A tribute to Johan Cruijff.
Awesome pictures of many great collections of bowling pins!

 Go to Collections on this website.
Enjoy my website and please come back!

BREAKING NEWS
In February 2022 I decided to SELL about 98% my collection of bowling pins! 690 pins will be shipped to the new owner in the USA soon. For the time being I will keep this website online. More information later.

Most frequent visited pages:

August 2019
I think this is awesome. Your old website is really nice too, I bet I have been on your website at least 12 times to research. I had no idea how many varieties of AMF Pins there are. Your website has helped me add at least 3 AMF Pins to my collection. By the way, your photography is excellent too.
John Hardman Lawrence (KS) USA
August 2019
The new site is looking great. I like all the collections.
Robert Dechance Visalia (CA) USA
August 2019
The page looks great Hans! A great tribute to bowling and all our collections. So very well done!
Chuck Schommer Columbia (SC) USA
August 2019
This new website is awesome Hans! The time and effort you put in this is unbelievable. I believe there is no other website in the world so complete with pictures and all!
Oscar Passenier Willemstad Curaçao

August 2019
Looks great Hans.... thanks for all the work you do!!!
Brian Bazylinski Amesbury (MA) USA
August 2019
Site looks good. I like it!
Alex Smith Winter Haven (FL) USA

About me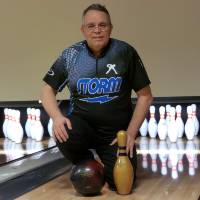 Hans Sommer
Hans Sommer
Collector of bowling pins and No.#14 pool balls.
Since 2013: I started collecting pins in 2013 after visiting Las Vegas and play in the 1st World Senior Bowling Championship at Red Rock Lanes.
My collection: I have a 700+ collection of bowling pins made by AMF, Qubica, Brunswick and many more. All my pins are on display in my home. Since early 2020 I have a 380+ collection of No.#14 pool balls. A tribute to Johan Cruijff.
My bowling: I bowled for 17 years untill 2020 and I have 3x300, 2x299 and 1x298 in my name. High series 780/3. My best seasons average is 208 (house leagues only).
Sir Bowmore: Untill 2004 I had a nice 200+ collection of Bowmore distillery bottlings. Sir Bowmore was my nickname. My Bowmore Pages is online since 2002 and still going strong. www.sirbowmore.nl.